Membership Dinner / Distinguished Citizen
Chamber Holds Spring Membership & Election Dinner
Fred Blowers honored as Distinguished Citizen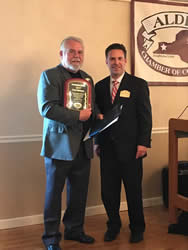 Members and guests of the Alden Chamber of Commerce enjoyed dinner and an evening together at the Whistle Stop Inn on Tuesday, May 16th, for the Chamber's Annual Spring Membership and Election Dinner.  Among the guests were family and friends of Fred Blowers, recipient of the 2017 Distinguished Citizen of the Year award.  Chamber Director Sue Galbraith read an impressive biography of Fred's achievements before announcing him as the 2017 Distinguished Citizen.  Then a beautiful plaque from Laser Ace Custom Engraving was presented to Fred by Chamber President Brooks Bowman.
After a delicious dinner and the award presentation, during which proclamations from the Erie County Legislature, New York State Senator Patrick Gallivan's office, Town of Alden, and Village of Alden were given to Fred, the crowd was entertained by Ted Burzynski magician.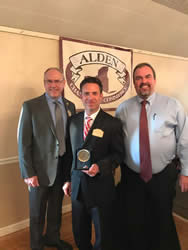 President Bowman then recounted the Chamber's accomplishments during the past year and outlined current and future activities, including the Alden Farmers' Market and upcoming Taste of Alden on June 2nd and the 6th annual Chamber Scholarship Fund Golf Tournament on July 28th.  He thanked all retiring Directors for their years of service on the Board.
Chamber Director Christopher Dowd then introduced the nominees for a new three-year term on the Chamber Board.  The nominees were: Shawn Gillen (Alden State Bank), Rick Kohl (Alden Village Market), Brooks Bowman (Elwood Jordans Insurance Agency), Maria Foss (Foss Livestock), and Michael Protos (Chestnut Hill County Club). ).  The Chamber thanks non-returning Directors Christopher Gust, Nancy Webster Hughes, and Jennifer Strong for their time and contributions over the past three years. Vice President Chris Dowd presented an engraved clock to President Bowman for his service for the past year.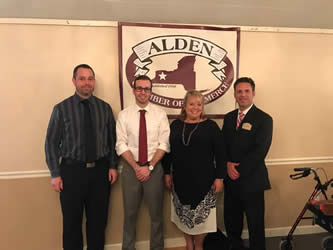 Co-sponsors assisting in making this event a success were Gold sponsors:  Alden State Bank, Carbone's Pizzeria, Doritex Corporation, Bene-Care Agency, Law Office of Michael W. Cole, Zoladz Construction and silver sponsors: Alden Pharmacy. The Chamber would like to extend their sincere appreciation for the support from these sponsors.  Thank you also to Country Crossroads Florists for donating the beautiful boutonnieres given to Fred Blowers and Sandra Blowers.